How we're funded
Fiscal Sponsor

PREreview operates as a non-profit as a fiscally sponsored project of Code for Science & Society (CS&S). CS&S is a 501(c)(3) nonprofit registered in the United States. CS&S provides administrative and strategic resources to project leads to support them in developing innovative technologies that benefit humanity. CS&S supports PREreview by assisting in building relationships with funding agencies, in connecting us with the larger public interest tech community, as well as in hiring and management of staff.
Funders and sponsors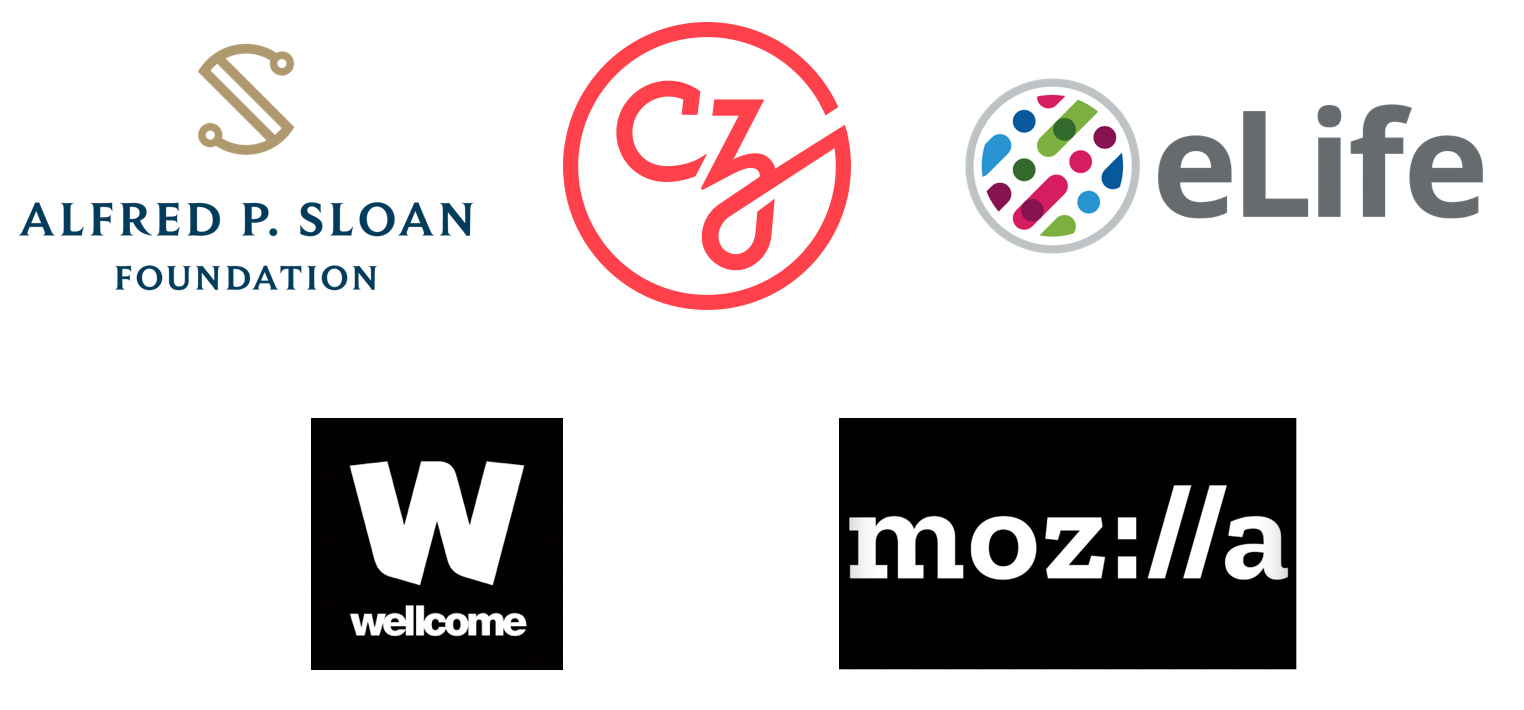 Presented in alphabetic order, below are the funders that have supported us in different capacities since 2017:
Alfred P. Sloan Foundation (2018-2020): The Sloan Foundation funded PREreview twice, once in 2018 to support our initial MVP release of prereview.org ($65,780 USD, grant 2018-8729), and once again in 2019 ($197,225 USD, grant 2019-9228) to fund user research and improvements on the platform for a new release coming soon, as well as to support our efforts in building materials and running live-streamed preprint journal clubs.
Chan Zuckerberg Initiative (2022-2024): The Chan Zuckerberg Initiative funded PREreview in a project in collaboration with eLife and Sciety aimed at building a robust and integrated system that fulfills the needs of preprint authors, reviewers, and readers.
eLife (2020-2022): eLife sponsored our pilot Open Reviewers program by supporting the salary of our program manager ($34,000 USD). eLife has also supported us by contributing to the salary of our Director, Daniela Saderi, and offering staff support to several project operations (read more about the partnership here and here).
Mozilla Foundation (2017-2020): Mozilla was our first funder with the Mozilla Mini-Grant 2017, awarding our first project aimed at engaging groups of researchers in the review of preprints during preprint journal clubs ($2,000 USD).
Mozilla sponsored our Director Daniela Saderi's salary for 10 months (September 2018-June 2019) via her Mozilla Fellowship ($60,000 USD).
Mozilla has also sponsored several events hosted by PREreview, including a design sprint for Outbreak Science Rapid PREreview in London in 2019 ($10,000 USD) and an open source sprint the summer of 2020 ($10,000 USD), as well as our pilot Open Reviewers program ($25,000 USD).
Wellcome Trust (2018-2021): The Wellcome Trust funded the development of the Outbreak Science Rapid PREreview platform in collaboration with the non-profit organization Outbreak Science (£50,000 GBP).
The Wellcome Trust awarded us with a D&I Enrichment grant to build long-lasting partnerships and engage in collaborations with like-minded organizations serving communities traditionally marginalized in scholarship (£20,000 GBP).
The Wellcome Trust also funded the development of PREreview's API and documentation for third-party site integration ($37,000 USD).
Contracts for service

We recently began to offer services to research institutions, funders, and publishers in an effort to transition from a grant-only funding scheme, to one that includes a "service revenue model" that still remains truthful to our values.
Presented in alphabetic order, below are the organizations that have contracted with us so far:
JMIR Publications contracted PREreview to run 25 live-streamed preprint journal clubs as part of a new peer review model for their open access overlay journal JMIRx. Learn more about this collaboration here.
The Open Research Funders Group and the Health Research Alliance contracted PREreview to work in close collaboration with Open & Equitable Civic Science Fellow Eunice Mercado-Lara to develop an open and equitable grant review training and mentoring program as part of a broader effort that in the next 2 years will pilot interventions across key steps of program development, review, selection, results dissemination, and evaluation & assessment.
Several universities and organizations have contracted us to lead our Open Reviewers Workshop. These include Oregon Health & Science University, the American College of Obsetrics and Gynecogoly, Crohn's and Colitis Foundation, Uppsala University, and the University of Exeter.
Would you like to learn more about what we offer and how we can support your community? Contact us at community@prereview.org.
Support us
We also accept individual, small dollar donations. Anything counts towards supporting our small team and operations to keep our project and resources open and free to all researchers! Thank you!
Donate